IPL 9 Review - Match 2 - KKR vs DD.
In a match where both teams took field for the first time in IPL 2016, Kolkata Knight Riders defeated Delhi Daredevils by 9 wickets. It was as if Delhi had brought it's woes from the last season along with it. Their script had the same old plot of batsmen failing in unity. At the toss, Delhi were put into bat first by the opposition skipper, Gautam Gambhir.
After the first two overs, just when they started opening their arms, their script came into play. Quinton de Kock played an awkward pull straight to mid-off to start the proceedings for them. Shreyas Iyer, highest run-scorer in Ranij Trophy 2015-16 followed him to the pavilion in the same over. In an attemp to pile up the run rate, Mayank Agarwal played a lofted shot, but the extra bounce made sure that ball reached safely to Brad Hogg, who was placed at third man. The fourth batsman to fall in the powerplay was Karun Nair, who was unable to keep his drive along the carpet, further reducing Delhi to 35-4 after 6 overs.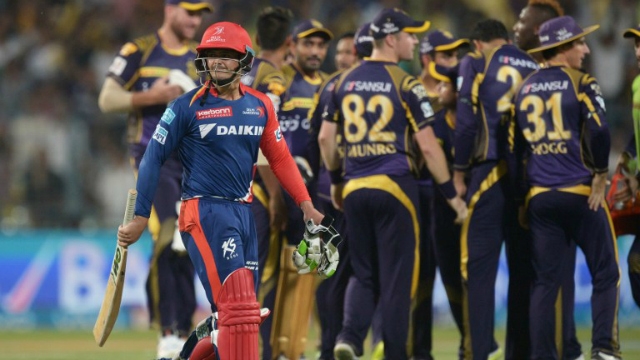 de Kock was dismissed cheaply in the third over.
When Sanju Samson and Pawan Negi kept the score board moving for four overs, things again looked settled for Delhi. But this was where their second set of the collapse started. The attacking batsman in Negi tried to hit Hogg over long-on but was unable to make any contact with the ball. He had to take the long walk back when Uthappa removed the bails in a trice. Then came Carlos Brathwaite, who hit Stokes for four sixes in the last over of the final of ICC World Twenty 2016. With more than 10 overs to go, Brathwaite was expected to settle in and then go for the big shots, considering the fact that not much batting was left behind him. But he had other plans. The expectation lasted for three deliveries, when on the fourth one he was found wanting against a Piyush Chawla googly.
Chris Morris hit two boundaries in two overs, but
when Chawla bowled him for 11,
he too became a casualty of the big shot. Delhi's last hope in Samson was also destroyed when he inside edged a Hogg delivery to Uthappa. At 84-8 in 13.1 overs, reaching the 3-figure mark was Delhi's primitive task. Nathan Coulter-Nile and Amit Mishra had it in themselves to achieve this goal. But Hogg had other intentions. In the 16th over, Mishra was deceived by his wrong-un and Gambhir completed the formalities at slip. On the fourth delivery of the 18th over, both Zaheer and Delhi's struggle finally ended when Zaheer handed a catch to Manish Pandey.
A target of 99 is a cinch for any team in T20s. Similar was the case with Kolkata Knight Riders, who were playing on their home turf. Gambhir and Uthappa played unadulterated cricket shots. Neither did they have the score board pressure nor did the opposition bowlers pose any threat to them. Uthappa got out on 35 in the 10th over but the job was already done by then. Pandey joined Gambhir and the duo steadily achieved the target with 35 balls to spare.
Gambhir and Uthappa provided a solid opening partnership.
Daredevils' batsmen were more culprits of false shots than of good bowling. Everyone who stood at the 22-yard turf aspired to go big than to play according to the situation. They have the talent in abundance. It's just that the young Indian batsmen will have to learn to stand on their stature. A T20 match does not mean that you can use the long handle any time you want. Temperament will always be of more importance than the long handle. With a new bunch of players, you often commit mistakes at the start. They can always get better after this startling performance.
JP Duminy's omission was perhaps a tactical error performed by the team management. Duminy can provide phenomenal balance to their juvenescent middle order. A batsman of his experience in the middle can provide ample confidence for the likes of Iyer, Nair and Samson. The fact that he is capable enough of bowling his quota of 4 overs can be an added advantage for Zaheer.